Spilling Ink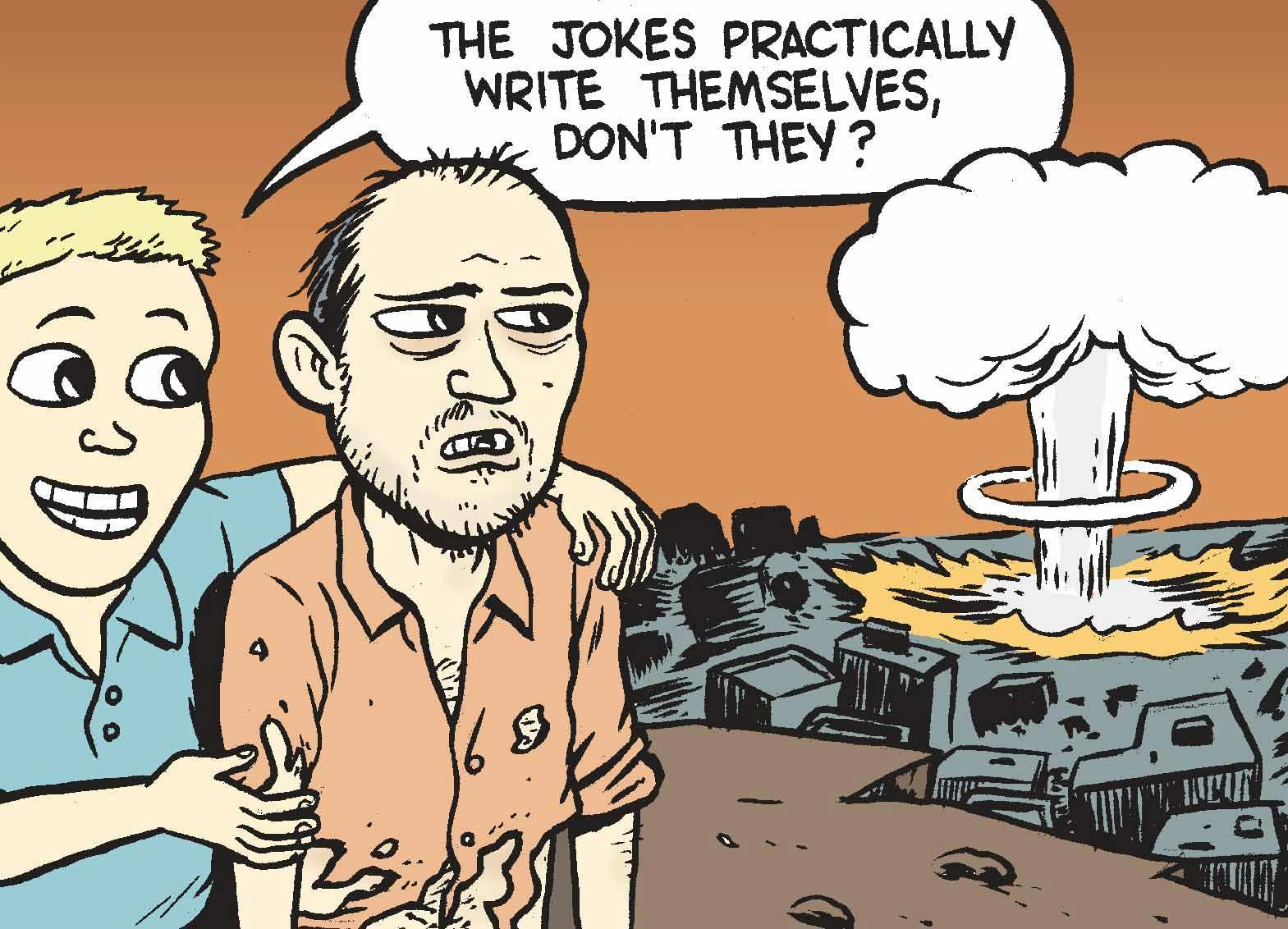 An interview with Matt Bors of The Nib on building an independent home for political and nonfiction comics in the age of Trump
By Tony
|
October 3, 2019
Comics
The Nib, online and updated daily at TheNib.com and more recently as a quarterly print journal, is one of our favorite publications. Smart, short form political cartoons and comics journalism befitting our weird era, showcasing the work of many great artists and illustrators. Contributing editor Talia Lavin recently caught up with founder/editor Matt Bors to talk shop as The Nib moves to a membership supported model.
Tell me a bit about yourself: Where are you from? What was your upbringing like? How did you first get into drawing comics?
I'm from northeastern Ohio and had kind of a middle class rustbelt upbringing. My parents worked pretty blue collar jobs and were really supportive of my art from a young age and I don't really remember a time when I wasn't drawing or trying to do that as my career goal. I've been pretty singularly focused on it since I could hold a crayon.
Who are some of your major artistic influences?
For the type of work I do in political cartooning, there's the whole school of 90s alt-weekly cartoonists that I looked to as a model for how to create good political cartoons—Tom Tomorrow and Ruben Bolling among many others.
But those influenced my writing and political sensibility more so than my art style. For that, I'm really all over the place: I was a religious devotee to the early Image comics creators as a kid. Then I shifted into more indie comics. Dan Clowes would be a major influence. Jamie Hewlitt on Tank Girl, Otomo's Akira, Ren and Stimpy, Aeon Flux—all the comics and art and pop culture I consumed as a kid seems to have played a role.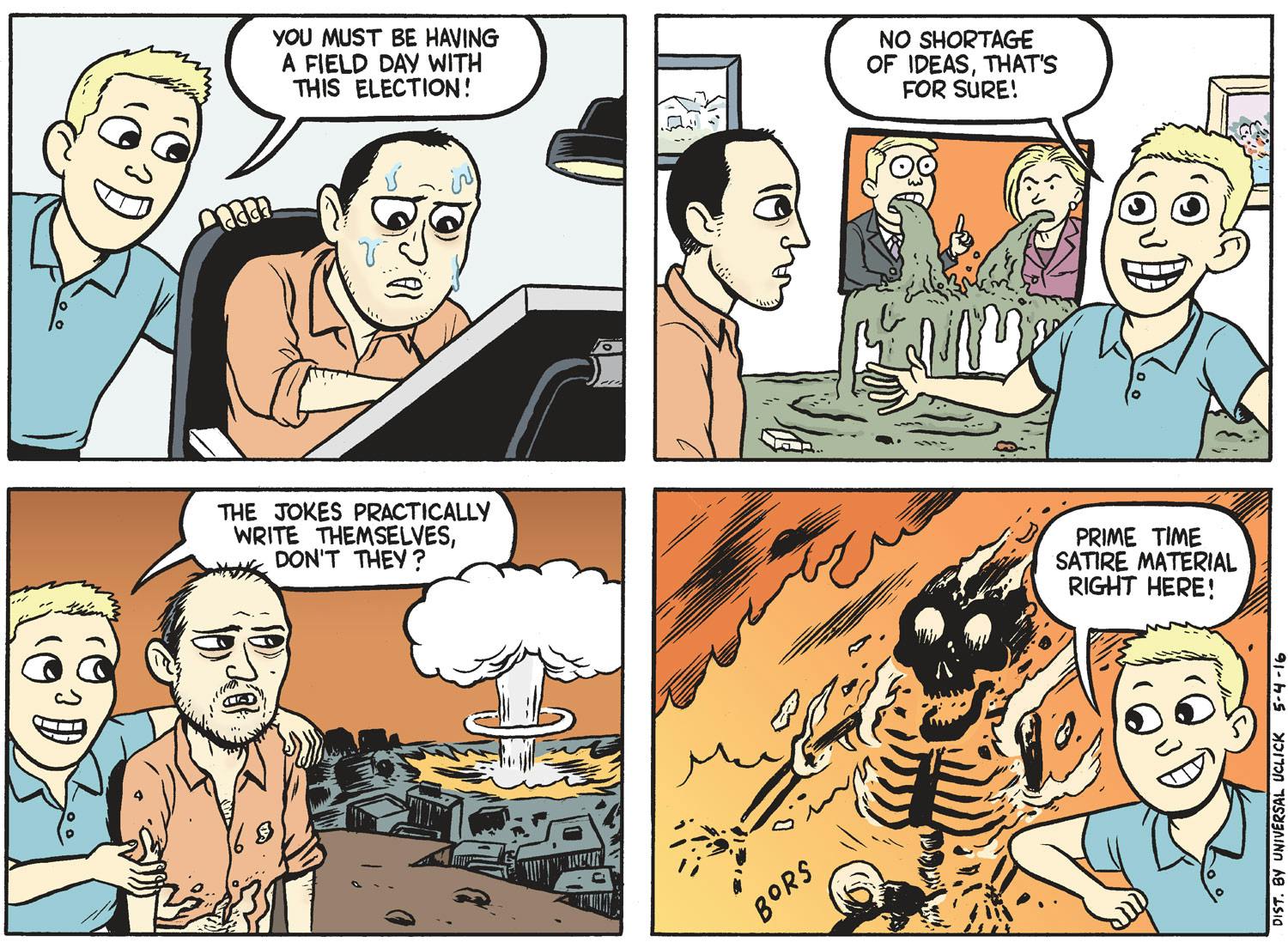 What made you decide to launch the Nib?
I had been getting into comics editing for various outlets in the years leading up to The Nib, as comics journalism editor for an outlet based in the Netherlands called Cartoon Movement and bringing political cartoons into a couple different publications. I had really wanted to just bring everything together under one umbrella and do my own thing—including a print magazine. I wouldn't get to that for years, but it was always there in my mind as the goal.
An opportunity came along when Medium launched and was putting a decent amount of money into launching all these publications with a specific focus. I got in touch with the main editor there at the time, Evan Hansen, and pitched him on an all-comics publication focused on politics. They wanted to build a large readership on their site and I wanted to legitimize and expand this genre of cartooning, so I think we both got what we wanted out of that. 
What are some of the proudest moments you've had as editor at the Nib? Wackiest projects, coolest ones, most hard-hitting or incisive or personal projects you've published?
My proudest moment I supposed was funding our Kickstarter for the magazine and raising 0,000 in 12 hours. That proved to me there was a demand for this kind of work in print and that the thing I'd spent years guiding is towards wasn't a complete waste of time. 
We did an app called Nibmoji with political stickers. That was certainly…Wacky. (It's still free to download!) And the two seasons of animation we did with Augenblick studios was some of the most fun I've had creating work as well as the most collaborative work I've ever done.
Overall we've put out over 4,000 comics so it's hard to know what to cite as stand outs—the first issue of the magazine about Death, I think, was some of the best work we've ever published. As I'm thinking about putting out an anthology of our queer comics I'm proud to have so much work from so many great trans and queer cartoonists.
After the Charlie Hebdo shooting we put together a package of pieces from cartoonists from France, the U.S., and the Muslim world that I think was really good and varied. Getting cartoonists from around the world to talk about issues—making work happen that no other media outlet is going to make happen—is what we do best.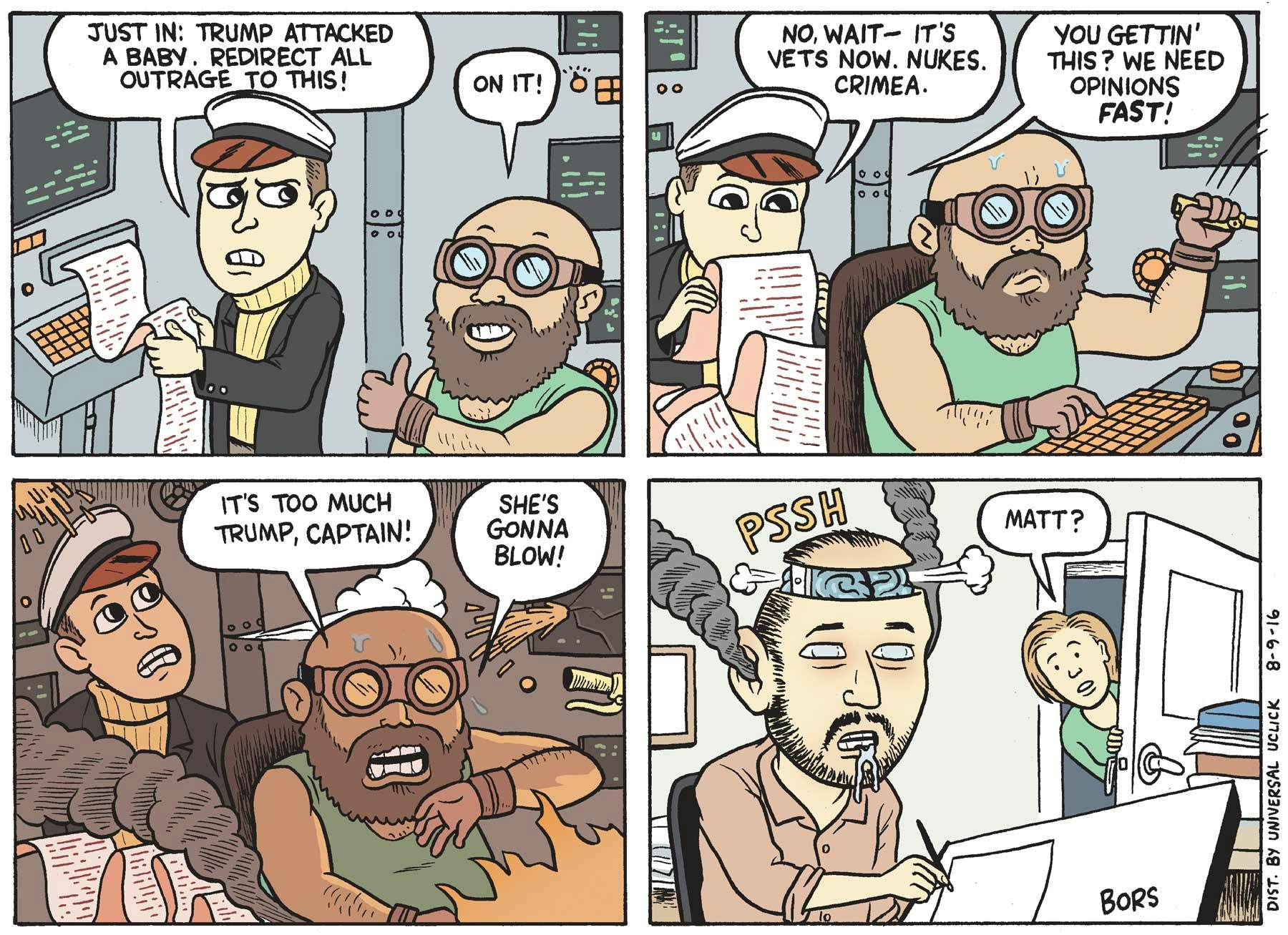 Have you perceived any change in political comics in the Trump era? In general it's a strange, strained time for satire, but also possibly a chance for graphic narrative to most effectively portray some of the absurdity and lurid cruelty of this moment in history. 
I wish I could say satire and comics had the ability to dismantle institutions or take down Trump, but that doesn't seem to be the case. Not sure what can end this nightmare at this point. I do hear a lot from people who say they help them get through their day and provide inspiration, but when you're on the other side and creating them all the time it can feel like a slog. 
What I will say is we've seen a lot of artists get political during this era and that's been heartening to see. I have one foot in media and one in the indie comics world and it has been a very depoliticized space in the past. That's changed a lot with the younger crowd, who is also much more diverse. Their actual work may not focus on politics or non-fiction cartooning regularly but they're highly politicized and pitching us when they have an idea that fits with The Nib.
And then I think of people like Pia Guerra who are contributors of mine. She's a well known comic book artist who took a turn toward editorial cartoons in the Trump era and immediately became one of the best in the business. 

Try a cup on us
Order A Sample