A Smashing Success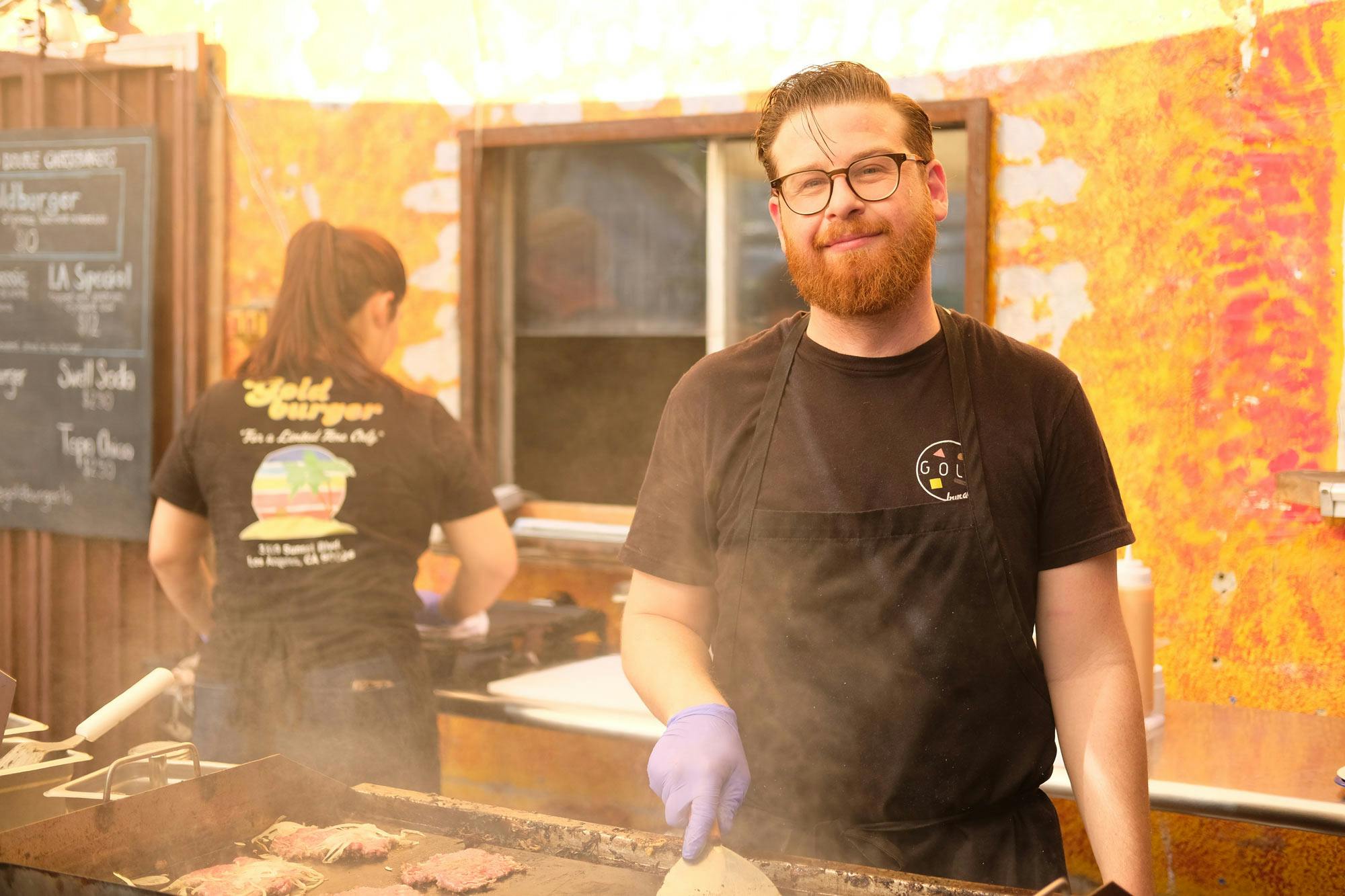 Goldburger, a passion project pop-up, hits a home run in Los Angeles
By Tony
|
January 27, 2020
Culinary
Before I dive into this profile of my favorite nomadic burger spot, I should confess I was a vegetarian for many years — albeit the sort of lazy vegetarian that considered a slice of cheese pizza to be the base of the food pyramid. I'll spare you the details of why and what led me to change, but when I did bring meat back into my diet it was gradual. I was selective, almost snobby about it. I felt I had to know the provenance of any animal I was ingesting. Then a period of more adventurous eating entered my life. Pleasure, cravings, and hedonistic impulses could put their greasy thumb on the scales from time to time. Being close to broke and living in Los Angeles I fully embraced the taco truck lifestyle. Now, years later, I find it easy enough to resist most of the meat-heavy staples of the American diet, but when they are really exceptionally delicious… I'm helpless.
So it is with Allen Yelent's Goldburger pop-up in Los Angeles. Allen is an old friend from the coffee world and I've watched him indulge a deep obsession with L.A.'s burger culture for years. Goldburger began as just a name and an Instagram account, a place for him to obsessively document the myriad versions of burger found here from classic to modern. One afternoon late in 2018 Allen set up a grill in the parking lot behind Dinosaur Coffee to test the waters, test the burgers, and test himself. Friends and his handful of Instagram followers flocked and he was sold out quickly. More pop-ups would follow at bars, coffee bars, and bar mitzvahs. Today he draws long lines of fans and seekers wherever he appears, most recently at his regular weekend pop-up in the Silver Lake neighborhood. 
What's so special about a burger? How is a seemingly straight-forward cheeseburger suddenly the latest line-up-around-the-block food fad of the moment? You could ask the same question about last decade's boom in artisanal pizza — simple, focused on quality of ingredients and technique, but with a purist approach that appeals to nostalgia over novelty. To me the Goldburger tastes exactly like what a classic cheeseburger should taste like (the American cheese here is essential), yet it's head and shoulders above anything I actually ever ate my youth.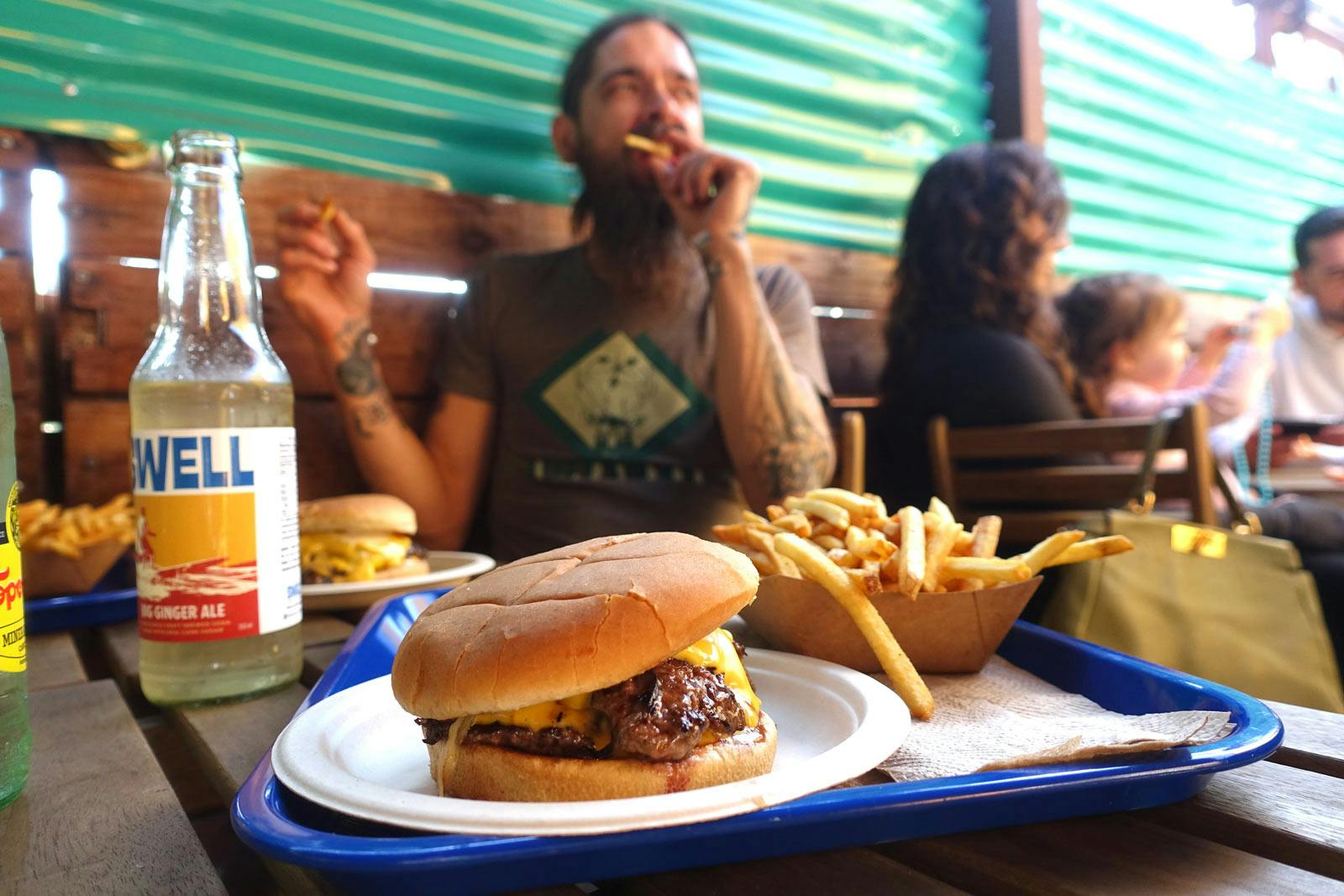 For something that's still not his day job (at least not yet), Allen's obsession has landed him press, fans, and some big accolades — like winning Food & Wine's Epic Burger Throwdown. For now it's still just a weekend pop-up, a short term lease in a ramshackle space that will soon be bulldozed to make way for new construction. Allen is cautious about next steps in a city whose restaurant industry, while thriving, can be fickle and is always facing countless headwinds. For now, the joy he and his small crew get putting out burgers at breakneck speed for their grateful throngs is palpable. 
I caught up with Allen after a day of working the grill…
How would you describe the Goldburger to someone who has never had it?
The Goldburger is simple and juicy — a double smash burger with great sear and rich cheese and lightly grilled onions. The house made mustard aioli cuts through all that richness to make for a perfectly balanced burger. At least that's how I feel about it!
Did you have an ideal burger in your head already, or was it taking shape while you explored the burger landscape?
I don't have a platonic ideal for burgers to be honest. I actually love them all, if we're talking about toppings and style. Thick burgers with bacon and avocado, etcetera… delicious. I don't like overly complicated burgers generally, like a mushroom and blue cheese or whatever, but I sometimes go for it if it's going to be delicious. Really I just look for good meat cooked properly and a proper size bun.
Try a cup on us
Order A Sample