Baroo is dead. Long Live Baroo.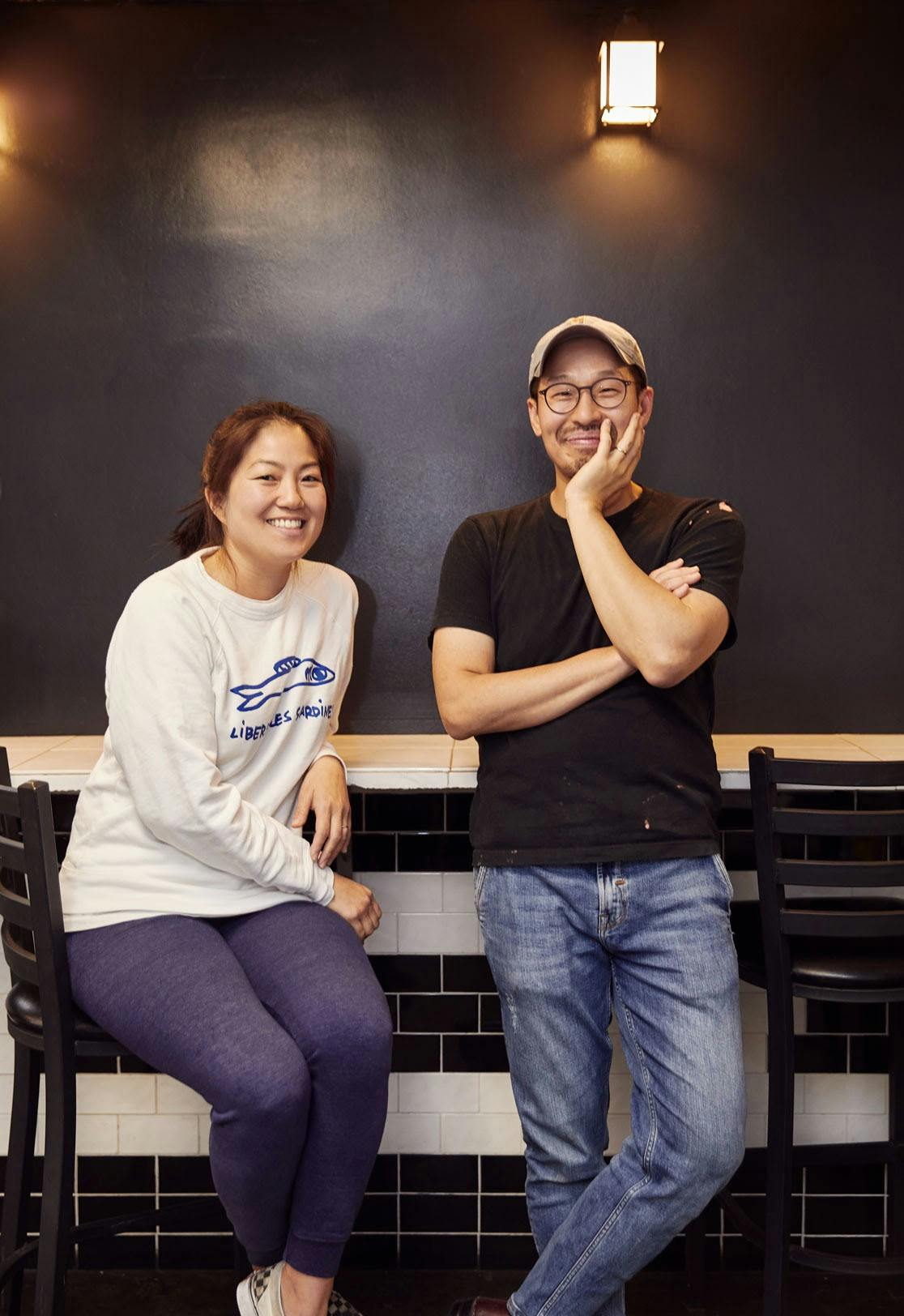 One of the most celebrated cult restaurants in Los Angeles finds a new temporary home
By Amy Marie Slocum
|
March 31, 2019
Culinary
In late October of last year, one of the most innovative and surprising restaurants to be found in an L.A. strip mall (a competitive category to say the least) closed after a nearly four-year run. With its bare bones business model (it had no sign, wait staff, alcohol, or anything besides the necessities) Baroo felt more like a lab than a restaurant — a sentiment that was echoed by Jonathan Gold in his November 2015 review for the Los Angeles Times: "There are a couple of long, shareable tables, a couple of counter seats and a few awkwardly placed stools. One wall is taken up with the room-length blackboard on which the menu is scrawled. Shelves by the open kitchen hold plastic containers and cloth-topped jars; clumps of fermenting pastes, berries and vegetables that look less like tomorrow's dinner ingredients than they do like scientific projects."
Speaking to us about that moment right after Gold's review catapulted Baroo from a under-the-radar East Hollywood gem to one of the most revered restaurants in Los Angeles, Kwang Uh tells us: "At that point I was also pushing myself to cook more, because I never thought of myself as a cook, I was not qualified to receive this reputation, so I was pushing myself to prove myself more." We are sitting with Uh and his wife Mina Park at one of five two-tops adjacent to Baroo Canteen — the new takeaway counter inside the Union Swapmeet, which is otherwise populated with stalls selling knockoff designer handbags, plastic kids toys, discount jewelry, and dried chile peppers.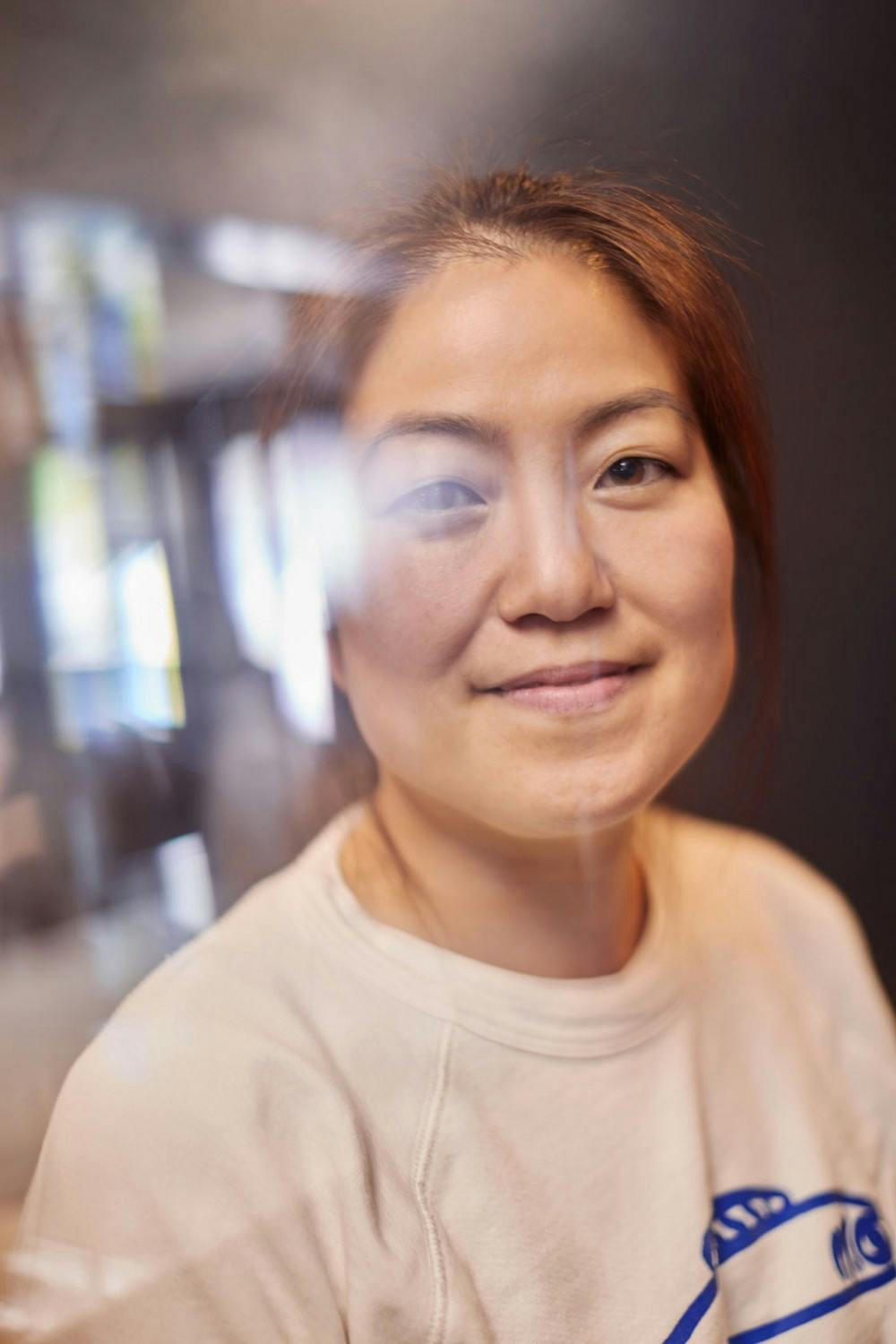 "We call this Baroo in-between." Park tells us brightly. "This is not a full chapter, it's a temporary pit stop. We're preparing for a new Baroo, a larger, proper restaurant. This is a place where we can work on the menu for the new Baroo, but also, it closed at the end of October, so we needed to start cooking again, otherwise you lose the sense of cooking and go stir crazy at home." A former corporate lawyer who also runs Sook, a private kitchen and pop-up dining concept, Park met Uh at the Buddhist temple in South Korea that is home to Jeong Kwan seunim, the nun who became world-famous after she was featured in the third season of Netflix's Chef's Table. At the time, Uh was on a six month sabbatical from Baroo, taking some time away from the stress of running a busy restaurant six days a week with just himself and Matthew Kim. "Also, I wanted to be alone" he tells us, with more than a hint of an ironic smile, because a few months into his stay Chef's Table came out and the world descended on the remote mountain temple.
Both Uh and Park talk about their time with the seunim with stars in their eyes. "She has the kind of cooking sense that is open to every kind of thing." Uh tells us. "Whenever she makes some kind of fermented pickle or vegetable she tries every way of doing it. It's really hard, especially in Korean culture, and especially in the conservative, closed religious society, to have that kind of open mind. So that's what we love about her, her open mind."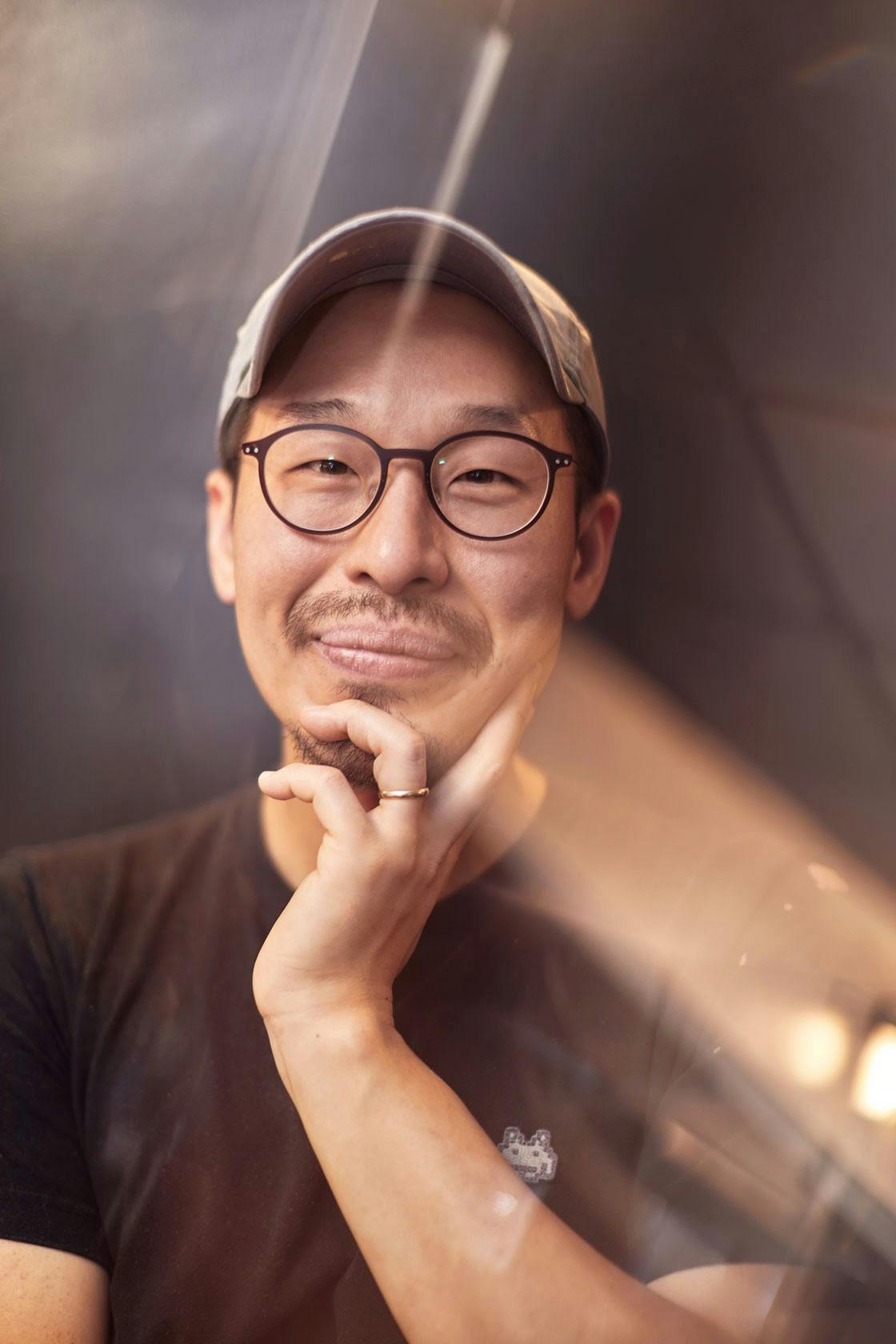 It's easy to find a trace in Uh's admiration of the seunim's of recognition of his own culinary philosophy. Though he was born and raised in Seoul, Uh's food at Baroo defies categorization. On the original Baroo menu his iconoclastic take on kimchi fried rice resided alongside oxtail ragu and celeriac pasta. At the new Baroo Canteen, the ever-changing menu features a fried chicken bowl with kimchi corn salsa and shiso jalapeño coulis and "Hong Kong style prawn toast," while other dishes feature ingredients as far flung as "'nduja spice" (after the spicy, spreadable pork salumi from Italy), "gochujang kewpie," and "squid ink aioli." This truly global culinary approach reflects Uh's peripatetic work experience, including the French fine-dining restaurant Daniel in New York, Nobu in the Bahamas, Piazza Duomo in Alba, Italy, Quique Dacosta in Spain, and Noma in Copenhagen.
"it's better to let your ego down but still, as a cook, have a passion to try to find some kind of new flavor or taste"
"Me personally, I eat everything, which makes it stressful because at Baroo, the food I was making is not what I want to eat every day," Uh tells us. "With Baroo Canteen, we want to cook more of the food that we want to eat every day. For example, I love to eat at Panda Express, and In-N-Out, because when you're a young cook and you finish work really late, you can only eat — in New York especially — Chinese takeout and some kind of deli burger. When you see a franchise it's a mainstream food, it's food for everyone. I got inspired by that because I had a chance to work with Matthew [Kim (at the first Baroo)] and Matthew is more mainstream."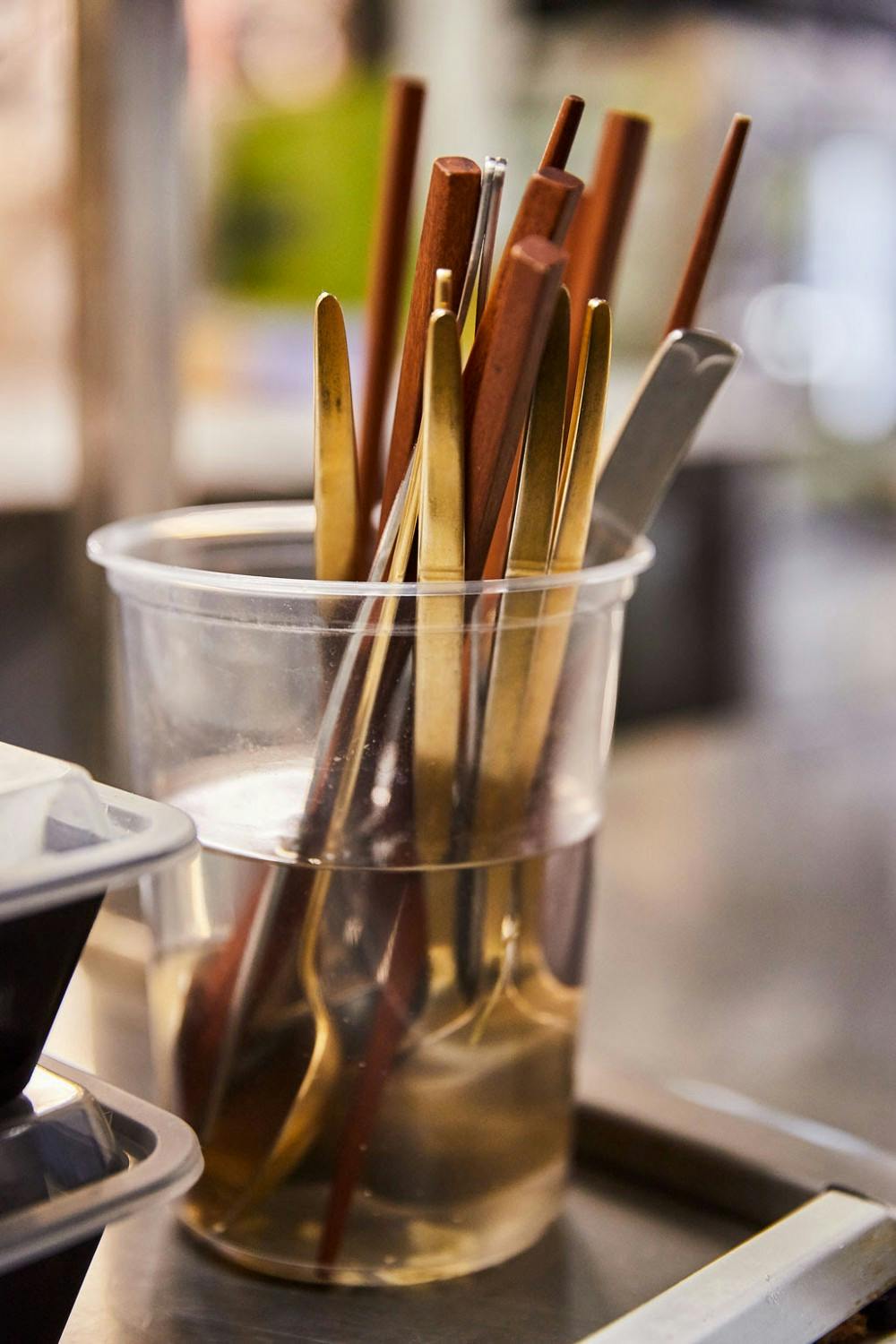 For Uh and Park, their ultimate goal is for diners to "have the feeling that they were treated as if they were at home under their mother's unconditional love."
"Whenever I made something like the ragu," Uh tells us, "everyone knows about ragu. As a cook I believe that with things that have a familiar flavor profile, if you have that kind of standard in your memory, and if your taste buds remember that, when you cook that will come out of you unconsciously. But still, I think it's too much. It's better to make more comfortable food, because at some point it's better to let your ego down but still, as a cook, have a passion to try to find some kind of new flavor or taste."
This egolessness might read as disingenuous in another chef, but Uh resembles his ascetic role model so much that it's obvious he does what he does out of genuine love of food and hospitality, and a pursuit of culinary greatness. When pressed to expound on his achievements he demurs: "Baroo is not an expert on fermentation," he says. "We are still a baby."
As to when that baby will grow into a full service restaurant Uh and Park hesitate. They are close to signing a lease, they say, but any space they take will require a full build out, taking six months at the very least, and that's if everything goes smoothly, which it never does. Park assures us though, that the legacy of Baroo 1.0 will remain in all of its iterations. "The food is the most important thing. We're never going to be a place that is splashing out on interiors, that's just not the purpose."