Now You See Him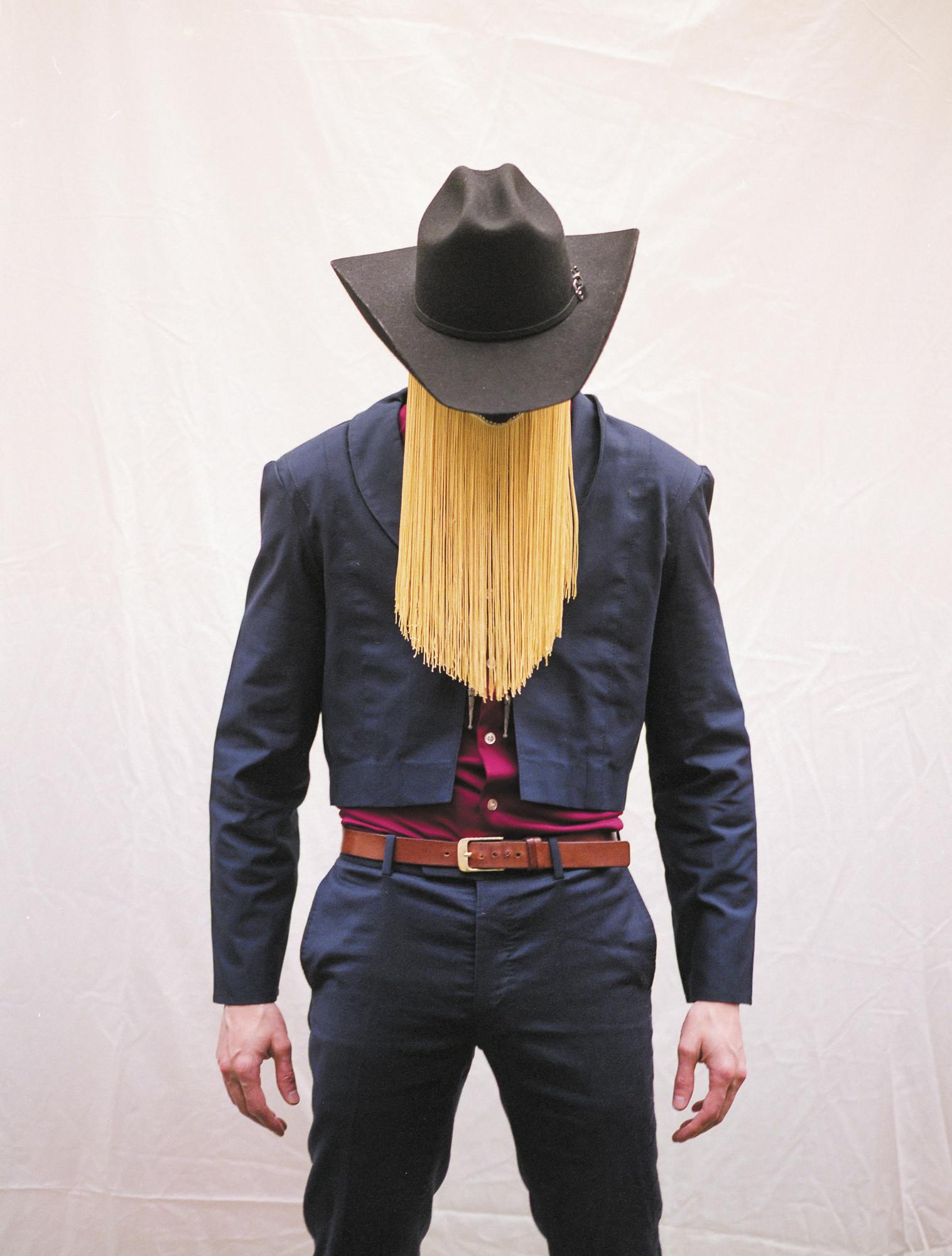 The Magic of Orville Peck: For this country talent, there's nothing to unmask.
By Amy Marie Slocum
|
July 8, 2019
Music
Photographed by Wunmi Onibudo
Orville Peck is who he appears to be. The masked country singer/songwriter has only revealed tidbits about his life prior to Pony, his debut record that he released through Sub Pop back in March. He claims that his name is actually Orville Peck, but he's dodgy about it when asked straight-up. He says that he used to tour in punk bands up until about five years ago, when he stopped to pursue acting full-time in London. His age is unknown to fans and followers. He tells me that he's always wearing one of several fringe leather masks that he dons at all of his performances and in press photos. Few people know what he looks like underneath. However, he's cagey when I ask about his self-imposed crypticness. To him, it's not that special.
"I don't think I'm doing anything different than any other artist has done in the past," he tells me over the phone. "Yeah, I wear a mask. But that's just part of my aesthetic. Because I'm making a reference to, obviously, the myth of the cowboy and references to spaghetti westerns, as well as rodeo performers. I'm not creating a persona. It's not like I'm playing a character. This is just my expression as an artist." 
"To me," he continues, "that's like asking, 'why did David Bowie wear crazy outfits?' Or why did Prince wear his hairs . . .I'm not trying to create any kind of enigma, I'm not trying to construct falsities."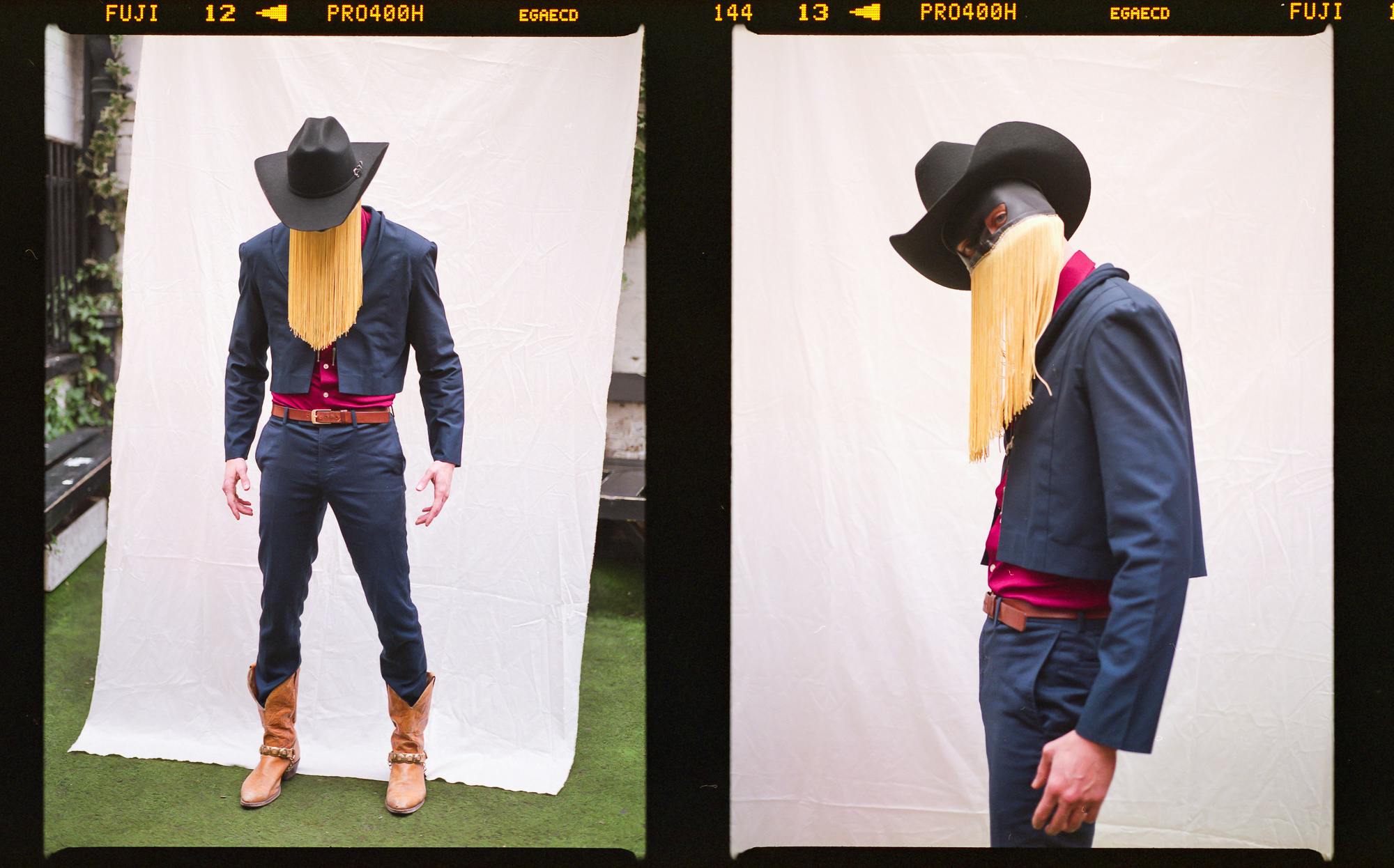 Quite the opposite, actually. Peck stresses that almost all of the stories he tells on are transparently biographical. "So if anybody feels like they aren't getting the full story from me, because I wear a mask or because they think there's some illusion there, I would really recommend that they listen to my music. And they'd probably get to know me a lot quicker than they would think."
is a country album, through and through. There are songs about lonely nights spent on the dusty trail, rawhide and buffalo, the fleeting nature of rodeo stardom, and a whole lot of heartbreak. Peck emphasizes that the music he makes is not intentionally different from the vast catalog of country subgenres he grew up listening to. But to many of the ears he's been reaching by signing with indie stalwart Sub Pop (think: Nirvana) Peck's breed of outlaw country may sound entirely new. 
His smoky, robust tenor has been compared to legends like Hank Williams and Roy Orbison, and the album's minimalist instrumentation harkens back to the genre's early era. But songs like the stark "Big Sky" and the tumbling "Buffalo Run" are doused in the amount of reverb that would normally turn up on a shoegaze or goth-rock record. Peck wanted a synthy style of production that pulls more from the '80s, whereas he attributes the songwriting itself to the sounds of the '60s and '70s.
"I come from a very diverse place as a fan of music," Peck says. "I grew up listening to punk and country and soul and girl groups and classical music. Genuinely everything. So I think my palate for reference is quite large and I think I definitely like to draw on that as an artist. I think that's how to be a clever artist and how to be a good artist. It's to know what inspires you and take things from that and make it your own." 
Peck also identifies as a queer person, and he sings openly about male romantic desires throughout the record. That's another aspect of his person that has turned the heads of the uninitiated, people who he says aren't familiar with country's rich history of underground artists who are queer, feminist, and/or people of color. 
We recently chatted about the genre's recent evolution, how the boundaries placed on country come from misunderstanding, and country's legacy of strongly subversive flare. 
Could future Orville Peck records sound completely different than this? 
It's possible. I think country is going through a transition at the moment where people are still just trying to police what makes a country sound or what makes a country album, or whatever that's supposed to mean. The country I know, which I know as a massive umbrella that has so many subgenres and sounds working underneath it. . .I will always make country music. Whether that's gonna be something that sounds like Hank Williams or something that's gonna sound maybe different than that, I don't know.
Are you interested in using the boundless movement in country as part of your creative ethos?
It's funny, in some ways I'm a real purist about stuff and I'm kind of like a stickler for anything that's going as newfangled. But that's the thing; I think what I'm doing isn't new. What I'm doing is really an ode to all kinds of country that I grew up loving. So maybe that has created something new, which is great. But it's not really my intention to come in and try to be a rabble rouser and to try and subvert country or whatever. I've always thought that country's subversive, anyway, and I've always thought that it's extremely diverse. 
Try a cup on us
Order A Sample