Que Suave: The Voice of Changing Tradition in Santa Fe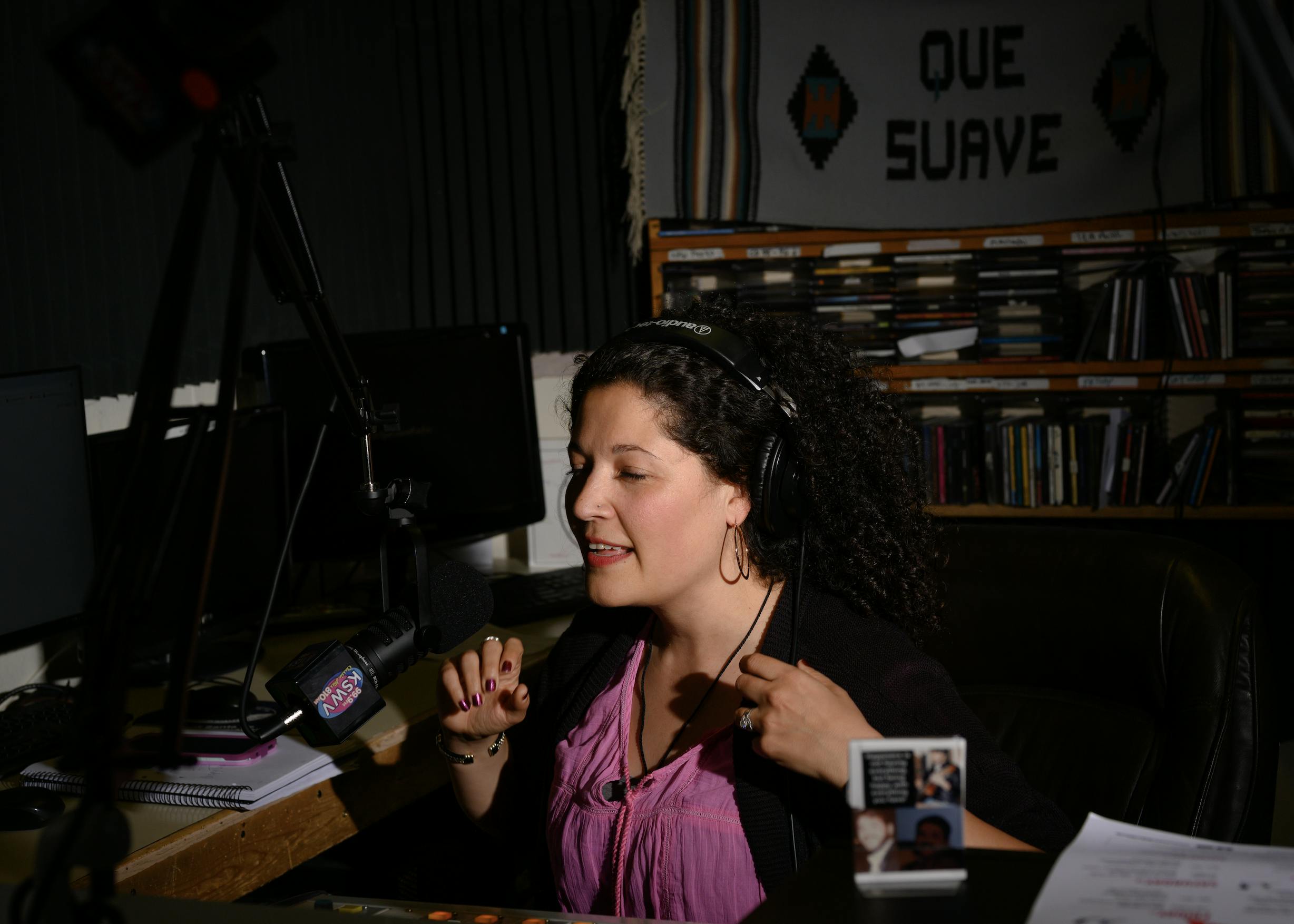 A photoessay on family-run radio station KSWV in Santa Fe, New Mexico
By Amy Marie Slocum
|
May 19, 2019
Culture
Radio can be easy to write off as an anachronism: for most of us in innovation-obsessed big cities, it's just that liminal, semi-analog space where you sometimes catch the tail end of a Morning Edition interview on your way to work. The days of big-name disc jockeys playing pop music rainmaker are long gone and on-demand podcasts do a better job at delivering ideas. But in certain contexts, radio has actually become more vibrant and vital than ever. In fact, according to several recent surveys, it remains far and away the most trusted broadcast medium of all.
Nowhere is this more apparent than in places defined by their highly specific cultures. Stations like KRVS Radio Acadie in Louisiana, which is just about the only place to hear a Cajun Creole broadcast, or Los Angeles' Korean-language KPMC are, in a sense, the amplified voices of their respective communities. They play host to local celebrities, mediate hyperlocal debates and become an aural embodiment of a specific discourse. And quite unlike social media — which tends to reinforce silos around interests and political beliefs — local radio fosters a much more lateral discourse, circumscribed only by geography and language; these stations are places to reminisce, to commiserate, and to be heard.
I have long roots in northern New Mexico, about as thoroughly distinctive a place as one can find in America. To its throngs of tourists and other recent arrivals, it is a semi-exotic, mostly empty abstraction romanticized in the stark imagery of famous artists and wrapped in a veneer of indigenous-meets-colonial symbol and architecture. In this sanitized and sellable version, the place is all off-the-grid Earthships, mineral hot springs, atomic research, galleries, green chile, and Meow Wolf. To say that this particular rendering glosses entirely over the local culture is a bit unfair, but it does heavily de-emphasize the distinct Native and hispano cultures whose people together make up a majority of its residents. But while the Native peoples have at bare minimum made major strides toward visibility and cultural recognition in recent years — thanks in part to the splendor and solemnity of places like Taos Pueblo and Bandelier, as well as a more general broadening of cultural awareness in America — the hispanos remain much more marginalized: to most Americans, they are simply Mexicans, while to Mexicans they are just Americans with Spanish last names. But these people, mi gente, have lived and made music and tilled the soil and spoken a highly distinct dialect in the constellation of villages and towns and ranchos that have dotted the arid mesas and fertile valleys since well before the Mayflower set sail.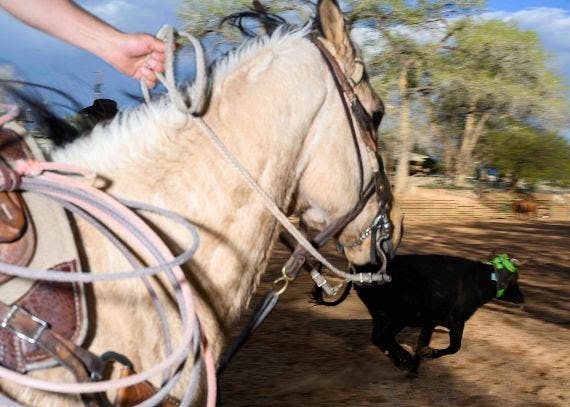 Not surprisingly, this mostly invisible culture has found a home on local radio and two stations, KSWV Que Suave in Santa Fe and KDCE ¿Qué Dice? in Española, have become the de facto places to tune in for a fix of New Mexico culture. And together with NPR affiliate KANW in Albuquerque, the two have also become the primary broadcasters of "New Mexico music," an evolving hybrid genre of Spanish-language ballads, ranchero, mariachi, banda, and Spanglish covers of American rock classics. While a few local artists, such as Al Hurricane, have gone on to become icons of the global latinx music world, these mostly simple, happy, lo-fi songs evoke home to every hispano in New Mexico, whether they speak Spanish or not.
Beyond the feel-good music, though, is the constant question of how to remain the voice to a changing culture. KSWV is particularly interesting because of its place in a city as culturally dynamic as Santa Fe. How to become relevant to a younger audience while also remaining welcoming to an older, more Spanish-speaking audience and even broadening its appeal to new listeners and recent arrivals from outside the culture? While nearby ¿Qué Dice? — roughly translating to "What's the word?" — comes across as a friendly but gossipy small town crier, Que Suave — translating to either "How nice!" or a more sardonic "How nice…" — more adeptly blends music, soft political talk, and everything from recipes to basic financial advice from a friendly host with a strong local accent.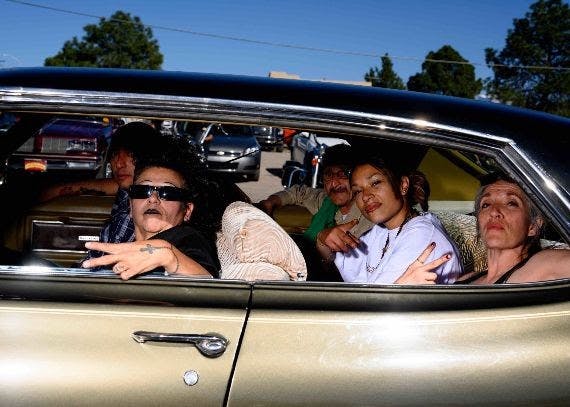 The Gonzales family — led by its matriarch Celina — have owned the station since 1991 and in the intervening years they have endured loss and tragedy, losing both their patriarch and a son who served as station manager. Under their stewardship, however, the station has evolved from a blip on the dial playing local music into a civic institution. It is a place for thoughtful talks with politicians and business leaders, a platform for promoting charitable causes, and the only place to hear the latest about fierce local high school sports rivalries. There is even a program slot for the praying of the Catholic rosary, which comes across as more welcomingly meditative than exclusively religious. The station's most popular show, "Adi in the Afternoon," is an easygoing hour of meandering, friendly chit chat and music that feels like hanging out with your gregarious best friend. Shows like Adi's make it easy to understand why Americans tend to trust local radio.
The daily obituaries are, perhaps counterintuitively, also a big hit. KSWV broadcasts a pre-recorded block of them read in languid, reverential Spanglish by the state's one-time lieutenant governor and honorary trobador Roberto Mondragón, whose wistful, nostalgic ballads about beloved old cars, honoring one's elders, and the natural beauty of women are standards at family gatherings. They're so unmissable that it isn't uncommon for a listener to call into the station to ask for someone to re-read an obituary they'd missed.
One of Celina's sons, Javier, just wrapped up a successful term as Santa Fe's mayor last year. His father had served as mayor decades earlier, but Javier's tenure marked a new era and a cultural inflection point as he was also the city's first openly gay mayor. And he has, indeed, been a bellwether for other tectonic cultural shifts in the region, the most visible being the ongoing controversy surrounding "La Entrada," the resplendent annual tribute to Don Diego de Vargas' ostensibly bloodless 1692 reconquest of the area, the event which comes complete with an elected DeVargas, his reina, and a well-dressed royal court. Javier, the progressive gay mayor of a deeply blue city, once served as DeVargas.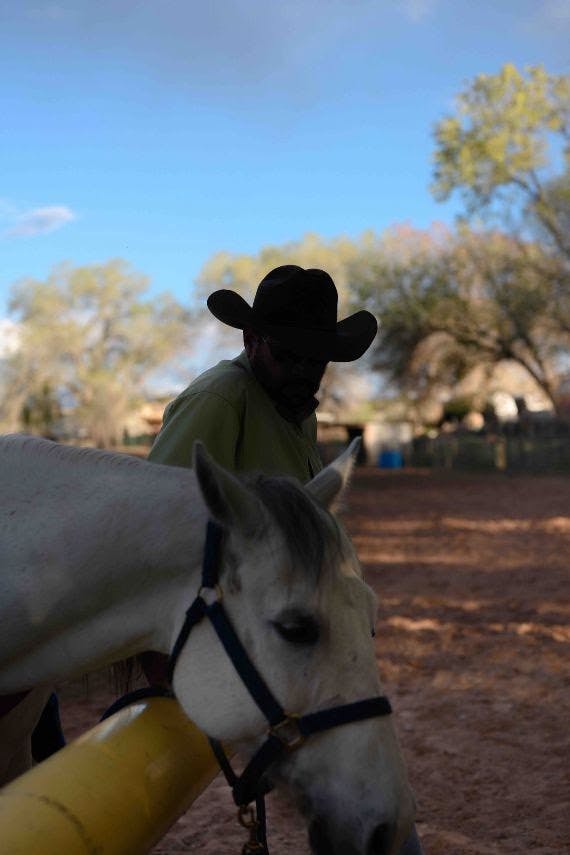 To many, this display is a culturally insensitive, historically myopic charade while to many hispanos it remains one of only salient means of laying claim to their contentious history and unique culture.
The question surrounding "La Entrada" runs parallel to the much more famous issue of the legacy of Juan de Oñate, an earlier conquistador notorious for violent acts which ostensibly included the cutting off of feet of Native Acoma men. A 1990s-era statue dedicated to his memory has become the area's principal cultural lightning rod: its foot has been cut off, painted red, and has otherwise been both maligned and vehemently defended in a litany of editorials and think pieces.
Meanwhile, in Española, a mostly hispano crowd of lowrider enthusiasts have been organizing and raising money to build a national lowrider museum in the area. It would be the first of its kind anywhere, and some even envision it as a new symbol of pride to supersede the problematic colonizers that have arguably outlived their usefulness as the primary icons of hispano culture in New Mexico. While lowrider culture has often been linked in the popular imagination to gang violence, a new generation of enthusiasts is proving that it is more about style, clever engineering and all-out artistry. As usual, local radio will continue to be the best place to talk it all out.
In 2016, KSWV added a digital FM frequency to broaden its appeal, but I still make it a point to listen only on AM when I'm home. For me, it's like running a finger over the entire landscape — you can intimately feel every dip, scratch, and groove.
Very special thanks to Estevan, Javier, Adi, Patricio, and Celina Gonzales for talking to me so thoughtfully about local radio and allowing me to disrupt your broadcast for an entire day. Thanks also to Robert and Annabella Fresquez, as well as curator Leland Chapin at Northern Río Grande National Heritage Area.